{ width: 312, height: 312, defaultImage: '000749798', layers: '000749798' }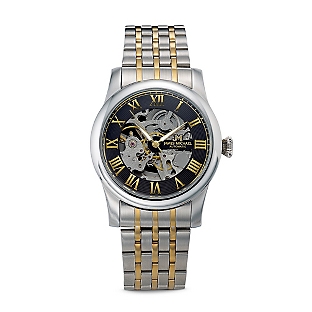 { altImage: '000749798' }

{ width: 48, height: 48, defaultImage: '000749798', layers: '000749798' }

{ altImage: '000749798_1_lg' }

{ width: 48, height: 48, defaultImage: '', layers: '000749798_1_lg' }

{ altImage: '000749798_2_lg' }

{ width: 48, height: 48, defaultImage: '', layers: '000749798_2_lg' }

{ altImage: '000749798_3_lg' }

{ width: 48, height: 48, defaultImage: '', layers: '000749798_3_lg' }
Back of Watch-Size: 1.75" x 2" x .5"

Back of Watch-Features: Two tone bracelet.with skeleton movement. Automatic movement - is a mechanical watch in which the mainspring is wound automatically as a result of natural motion of the wearer's arm, to provide energy to run the watch, making manual winding unnecessary.

Back of Watch-Warranty: 1 year

Presentation Box-Size: 5"x 4"x 2.75"

Back of Watch-Color: Silver, gold, black

Back of Watch-Material: Stanless steel, brass

Presentation Box-Material: MDF

Presentation Box-Color: Black