{ width: 312, height: 312, defaultImage: '000792101', layers: '000792101' }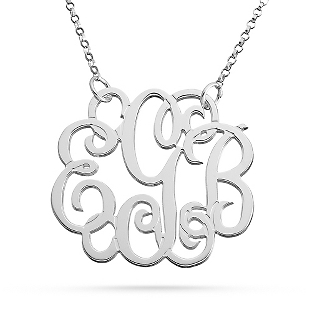 { altImage: '000792101' }

{ width: 48, height: 48, defaultImage: '000792101', layers: '000792101' }

{ altImage: '000792101_1_lg' }

{ width: 48, height: 48, defaultImage: '', layers: '000792101_1_lg' }

{ altImage: '000792101_2_lg' }

{ width: 48, height: 48, defaultImage: '', layers: '000792101_2_lg' }

{ altImage: '000792101_3_lg' }

{ width: 48, height: 48, defaultImage: '', layers: '000792101_3_lg' }
Monogram Necklace-Material: Sterling silver

Monogram Necklace-Features: Beautifully crafted from premium 1mm thick Sterling silver. Rope chain.

Monogram Necklace-Size: 18" chain

Monogram Necklace-Care Instructions: Sterling Silver is a precious metal and special care should be used. Store in the original velvet pouch. Remove jewelry when showering/swimming. Use a polishing cloth to restore shine and remove tarnish that is natural with normal wear.

Monogram Necklace-Color: Silver

Monogram Necklace-Clasp/Closure: Spring ring