{ width: 312, height: 312, defaultImage: '000764142', layers: '000764142_10205' }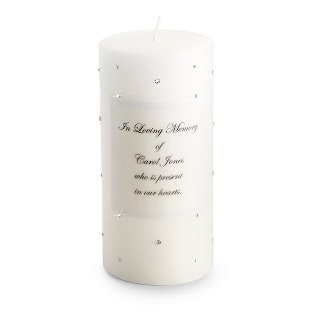 { altImage: '000764142_10205' }

{ width: 48, height: 48, defaultImage: '000764142', layers: '000764142_10205' }

{ altImage: '000764142_1_lg' }

{ width: 48, height: 48, defaultImage: '', layers: '000764142_1_lg' }
Delivery Dates:
---
Standard Delivery
---
Express Delivery
---
Express Plus Delivery
---
Next Business Day Delivery
Must place your order by 4:00 PM, EST
---
About Shipping Options
Name-Features: Studded with clear swarovski crystals all over candle, matches the swarovski unity candle set. Comes packaged in clear cellophane wrapper with bow on top.

Name-Material: Paraffin/ Beeswax, Swarovski crystals

Name-Size: 6"x 3"

Name-Color: Creamy white (Light ivory), gray font, Clear crystals