{ width: 312, height: 312, defaultImage: '000747088', layers: '000747088_10205' }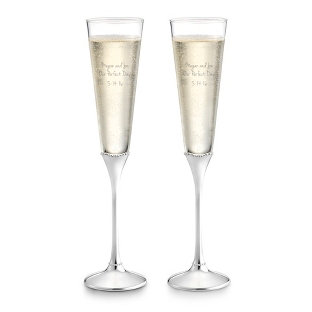 { altImage: '000747088_10205' }

{ width: 48, height: 48, defaultImage: '000747088', layers: '000747088_10205' }

{ altImage: '000747088_1_lg' }

{ width: 48, height: 48, defaultImage: '', layers: '000747088_1_lg' }

{ altImage: '000747088_2_lg' }

{ width: 48, height: 48, defaultImage: '', layers: '000747088_2_lg' }
Front of Flute 1-Features: Treated with laquer coating to help prevent tarnishing. Flutes have a scalloped bead pattern around the base of the stem. The bowl flares out at the top for a dramatic line.

Front of Flute 1-Color: Silver, Clear

Front of Flute 1-Care Instructions: Hand wash ONLY prior to use with warm water and a soft cloth with mild detergent. Do not allow product to soak or use abrasive cleaners that can scratch or dull surface. Dry immediately after washing. Polishes and cleaners may affect coating.

Front of Flute 1-Size: 2.6"x 2.6"x 10.5"

Front of Flute 1-Material: Laquer coated silver plated stem with glass bowl