{ width: 312, height: 312, defaultImage: '000774381', layers: '000774381_10223' }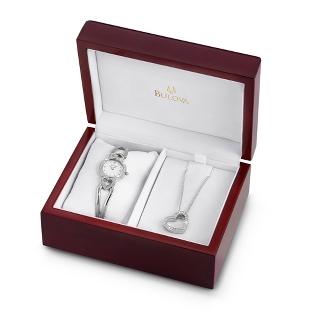 { altImage: '000774381_10223' }

{ width: 48, height: 48, defaultImage: '000774381', layers: '000774381_10223' }

{ altImage: '000774381_1_lg' }

{ width: 48, height: 48, defaultImage: '', layers: '000774381_1_lg' }

{ altImage: '000774381_2_lg' }

{ width: 48, height: 48, defaultImage: '', layers: '000774381_2_lg' }

{ altImage: '000774381_3_lg' }

{ width: 48, height: 48, defaultImage: '', layers: '000774381_3_lg' }

{ altImage: '000774381_4_lg' }

{ width: 48, height: 48, defaultImage: '', layers: '000774381_4_lg' }
Delivery Dates:
---
Standard Delivery
---
Express Delivery
---
Express Plus Delivery
---
Next Business Day Delivery
Must place your order by 4:00 PM, EST
---
About Shipping Options
Top of Box-Color: Silver, white dial, crystals

Top of Box-Material: Stainless steel, brass

Top of Box-Brand: Bulova®

Top of Box-Size: Necklace: 18" chain

Top of Box-Battery: SR616SW (included)

Top of Box-Care Instructions: Store your jewelry in the original box to avoid excessive scratching. Polish with a soft cloth to restore original luster.

Top of Box-Features: Bulova women's watch featuring a solid stainless steel case set with Swarovski crystals & high quality Japanese quartz movement, heart shaped pendant includes 26 crystals and a stainless steel chain necklace.

Top of Box-Components: Watch, necklace

Top of Box-Warranty: 3 year limited warranty