{ width: 312, height: 312, defaultImage: '000746364', layers: '000746364_10205' }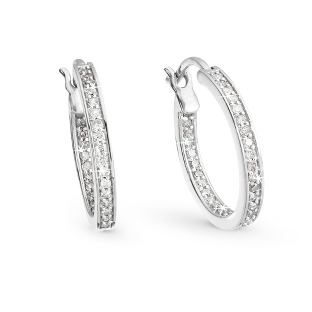 { altImage: '000746364_10205' }

{ width: 48, height: 48, defaultImage: '000746364', layers: '000746364_10205' }

{ altImage: '000746364_1_lg' }

{ width: 48, height: 48, defaultImage: '', layers: '000746364_1_lg' }
Guaranteed Christmas Delivery still available.
See below dates for details.
Earrings-Material: Sterling Silver, Diamonds

Earrings-Color: Silver

Earrings-Care Instructions: Remove jewelry when showering/swimming. Use a polishing cloth to restore shine and remove tarnish that is natural with normal wear for sterling silver

Earrings-Features: 1/2 Carat total diamond weight (1/4 carat of diamonds on each hoop) set in sterling silver hoop-style earrings. Diamonds are H/I color, I2/I3 clarity. Includes an engravable keepsake box.

Earrings-Components: Earrings, Keepsake Box