{ width: 312, height: 312, defaultImage: '000739876', layers: '000739876' }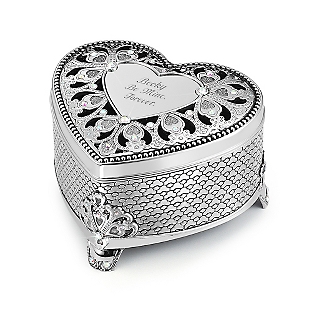 { altImage: '000739876' }

{ width: 48, height: 48, defaultImage: '000739876', layers: '000739876' }

{ altImage: '000739876_1_lg' }

{ width: 48, height: 48, defaultImage: '', layers: '000739876_1_lg' }

{ altImage: '000739876_2_lg' }

{ width: 48, height: 48, defaultImage: '', layers: '000739876_2_lg' }
Delivery Dates:
---
Standard Delivery
---
Express Delivery
---
Express Plus Delivery
---
Next Business Day Delivery
Must place your order by 4:00 PM, EST
---
About Shipping Options
Keepsake Box-Size: 4.51"x 4.01"x 2.84"

Keepsake Box-Material: Zinc Alloy

Keepsake Box-Color: Platinum Toned with Antiquing

Keepsake Box-Features: Matches the Anastasia Collection. Velvet lining. Engrave on the top for a special gift.