{ width: 312, height: 312, defaultImage: '000672360', layers: '000672360' }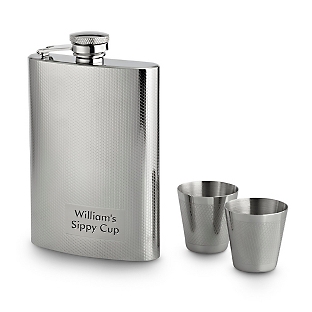 { altImage: '000672360' }

{ width: 48, height: 48, defaultImage: '000672360', layers: '000672360' }

{ altImage: '000672360_1_lg' }

{ width: 48, height: 48, defaultImage: '', layers: '000672360_1_lg' }
Delivery Dates:
---
Standard Delivery
---
Express Delivery
---
Express Plus Delivery
---
Next Business Day Delivery
Must place your order by 4:00 PM, EST
---
About Shipping Options
Flask-Material: Stainless steel, plastic

Flask-Features: Classic flask with a textured etched pattern and includes 2 shot glasses to match -Funnel Included

Flask-Capacity: Flask: 6 oz.; Glasses: 1.2 oz. each

Flask-Color: Silver

Flask-Size: 5.25" x 3.4" x .9"