{ width: 312, height: 312, defaultImage: '000334699', layers: '000334699_10223' }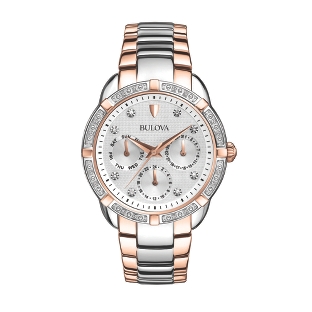 { altImage: '000334699_10223' }

{ width: 48, height: 48, defaultImage: '000334699', layers: '000334699_10223' }

{ altImage: '000334699_1_lg' }

{ width: 48, height: 48, defaultImage: '', layers: '000334699_1_lg' }

{ altImage: '000334699_2_lg' }

{ width: 48, height: 48, defaultImage: '', layers: '000334699_2_lg' }

{ altImage: '000334699_3_lg' }

{ width: 48, height: 48, defaultImage: '', layers: '000334699_3_lg' }
Guaranteed Christmas Delivery still available.
See below dates for details.
Back of Watch-Battery: Included

Back of Watch-Size: Case Diameter: 36mm

Back of Watch-Features: Ladies' Bulova two tone watch featuring a silver tone dial with rose gold tone hands, diamonds on the bezel and dial, and water resistant to 30 M (99 feet).

Back of Watch-Warranty: 3 year warranty

Back of Watch-Material: Stainless steel band and case, brass dial

Back of Watch-Brand: Bulova®