{ width: 312, height: 312, defaultImage: '000750392', layers: '000750392' }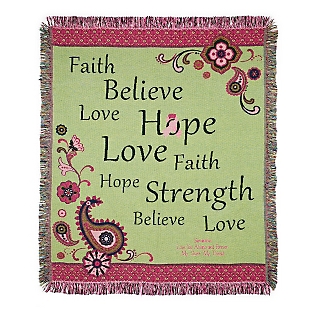 { altImage: '000750392' }

{ width: 48, height: 48, defaultImage: '000750392', layers: '000750392' }

{ altImage: '000750392_1_lg' }

{ width: 48, height: 48, defaultImage: '', layers: '000750392_1_lg' }

{ altImage: '000750392_2_lg' }

{ width: 48, height: 48, defaultImage: '', layers: '000750392_2_lg' }
Delivery Dates:
---
Standard Delivery
---
Express Delivery
---
Express Plus Delivery
---
Next Business Day Delivery
Must place your order by 4:00 PM, EST
---
About Shipping Options
Throw-Size: 50" x 60"

Throw-Material: 100% Cotton

Throw-Features: Decorative Breast Cancer Awareness throw with words of encouragement, accented with a paisley and flower print.

Throw-Washing Instructions: Machine wash cold water, gentle cycle, mild detergent, do not bleach. Tumble dry low.