{ width: 312, height: 312, defaultImage: '000741848', layers: '000741848_10205' }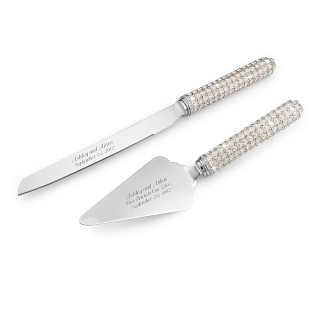 { altImage: '000741848_10205' }

{ width: 48, height: 48, defaultImage: '000741848', layers: '000741848_10205' }

{ altImage: '000741848_1_lg' }

{ width: 48, height: 48, defaultImage: '', layers: '000741848_1_lg' }
Knife-Color: White, Silver, Clear crystals

Knife-Size: 13.5"x 1.0"x 1.0"

Knife-Care Instructions: Hand wash only.

Knife-Material: Pewter alloy, imitation silver plating, crystals, epoxy

Knife-Features: Server's pattern has white mini hearts that are outlined in silver. The mini hearts repeat themselves in rows covering the entire handle of the server. Each heart is adorned with a crystal in the middle.