{ width: 312, height: 312, defaultImage: '000335638', layers: '000335638_10115' }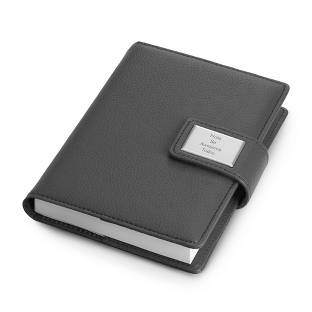 { altImage: '000335638_10115' }

{ width: 48, height: 48, defaultImage: '000335638', layers: '000335638_10115' }

{ altImage: '000335638_1_lg' }

{ width: 48, height: 48, defaultImage: '', layers: '000335638_1_lg' }
Guaranteed Christmas Delivery still available.
See below dates for details.
Front of Plate-Color: Gray, white, silver

Front of Plate-Size: 6.42" x 4.92" x 1.30"

Front of Plate-Material: Cover: Pebble grain PVC, Lining: 210D Polyester, Notebook: Stone paper, Metal

Front of Plate-Features: Small gray pebble grain journal with inserts to hold a white stone paper notebook and features a snap closure with a metal plate that can be engraved.