{ width: 312, height: 312, defaultImage: '000797012', layers: '000797012_10115' }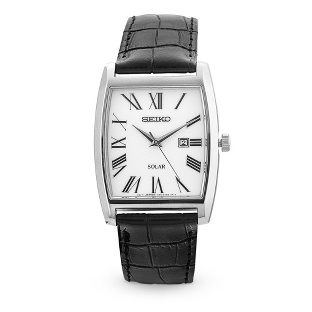 { altImage: '000797012_10115' }

{ width: 48, height: 48, defaultImage: '000797012', layers: '000797012_10115' }

{ altImage: '000797012_1_lg' }

{ width: 48, height: 48, defaultImage: '', layers: '000797012_1_lg' }

{ altImage: '000797012_2_lg' }

{ width: 48, height: 48, defaultImage: '', layers: '000797012_2_lg' }
Guaranteed Christmas Delivery still available.
See below dates for details.
Back of Watch-Battery: Included, rechargeable

Back of Watch-Size: Case Diameter: 31mm; Case Thickness: 10mm; Band Width: 20mm

Back of Watch-Features: Men's Seiko solar watch with leather calfskin strap. Solar powered timepiece is powered by both natural and artificial light and never requires a replacement battery. Features a date function at three o'clock.

Back of Watch-Warranty: 3 Year

Back of Watch-Color: Silver, white, black

Back of Watch-Material: Stainless steel case, calfskin leather strap

Back of Watch-Brand: Seiko®