{ width: 312, height: 312, defaultImage: '000737917', layers: '000737917' }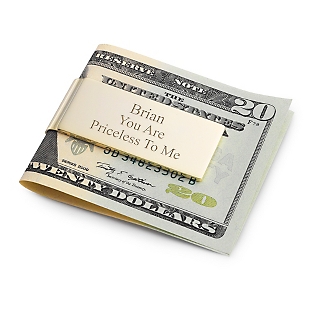 { altImage: '000737917' }

{ width: 48, height: 48, defaultImage: '000737917', layers: '000737917' }

{ altImage: '000737917_1_lg' }

{ width: 48, height: 48, defaultImage: '', layers: '000737917_1_lg' }

{ altImage: '000737917_2_lg' }

{ width: 48, height: 48, defaultImage: '', layers: '000737917_2_lg' }

{ altImage: '000737917_3_lg' }

{ width: 48, height: 48, defaultImage: '', layers: '000737917_3_lg' }
Clip-Care Instructions: Gold plating will naturally tarnish when exposed to the air and moisture. Use a polishing cloth to bring back some of the original shine. Avoid contact with moisture and abrasive materials.

Clip-Color: Gold tone

Clip-Material: Brass

Clip-Features: Classic money clip with a polished gold finish and a black presentation box

Clip-Components: Money clip, box

Clip-Size: 2.16" x .98" x .39"