{ width: 312, height: 312, defaultImage: '000753454', layers: '000753454' }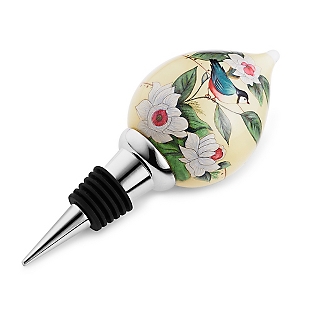 { altImage: '000753454' }

{ width: 48, height: 48, defaultImage: '000753454', layers: '000753454' }

{ altImage: '000753454_1_lg' }

{ width: 48, height: 48, defaultImage: '', layers: '000753454_1_lg' }

{ altImage: '000753454_2_lg' }

{ width: 48, height: 48, defaultImage: '', layers: '000753454_2_lg' }
Delivery Dates:
---
Standard Delivery
---
Express Delivery
---
Express Plus Delivery
---
Next Business Day Delivery
Must place your order by 4:00 PM, EST
---
About Shipping Options
Back of Stopper-Material: Glass, Metal, Rubber gaskets

Back of Stopper-Features: Susan Winget design. Hand painted using reverse painting process. Certificate of Authenticity included.

Back of Stopper-Size: 2.22"x 2.22"x 6"