{ width: 312, height: 312, defaultImage: '000747842', layers: '000747842' }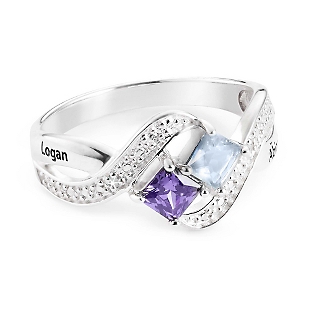 { altImage: '000747842' }

{ width: 48, height: 48, defaultImage: '000747842', layers: '000747842' }

{ altImage: '000747842_1_lg' }

{ width: 48, height: 48, defaultImage: '', layers: '000747842_1_lg' }

{ altImage: '000747842_2_lg' }

{ width: 48, height: 48, defaultImage: '', layers: '000747842_2_lg' }
Delivery Dates:
---
Standard Delivery
---
Express Delivery
---
Express Plus Delivery
---
Next Business Day Delivery
Must place your order by 4:00 PM, EST
---
About Shipping Options
Sterling Princess Cut Couples Ring with Diamond Accents-Features: Couples ring, great promise ring, or anniversary. Engravable with two names. Choice of color of princess-cut birthstone crystals.

Sterling Princess Cut Couples Ring with Diamond Accents-Material: Sterling silver, Diamond accent, Austrian crystals

Sterling Princess Cut Couples Ring with Diamond Accents-Size: Available in sizes 6, 7, 8, 9, 10

Sterling Princess Cut Couples Ring with Diamond Accents-Color: Silver ring