{ width: 312, height: 312, defaultImage: '000757528', layers: '000757528' }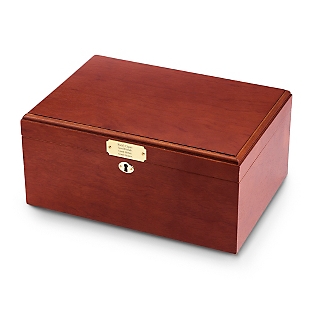 { altImage: '000757528' }

{ width: 48, height: 48, defaultImage: '000757528', layers: '000757528' }

{ altImage: '000757528_1_lg' }

{ width: 48, height: 48, defaultImage: '', layers: '000757528_1_lg' }
Guaranteed Christmas Delivery still available.
See below dates for details.
Humidor Plate-Features: Desktop humidor with a cherry wood finish, round humidifier, glass hygrometer, a Spanish cedar tray and divider, SureSeal Technology to insure a proper lid seal and holds 75- 100 cigars

Humidor Plate-Color: Cherry finish, gold

Humidor Plate-Material: MDF, Brass, Cedar

Humidor Plate-Size: 13.6" x 9.5" x 6.25"