{ width: 312, height: 312, defaultImage: '000656917', layers: '000656917_10109' }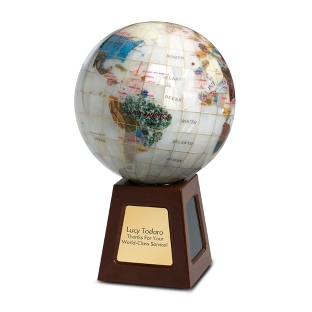 { altImage: '000656917_10109' }

{ width: 48, height: 48, defaultImage: '000656917', layers: '000656917_10109' }

{ altImage: '000656917_1_lg' }

{ width: 48, height: 48, defaultImage: '', layers: '000656917_1_lg' }
Delivery Dates:
---
Standard Delivery
---
Express Delivery
---
Express Plus Delivery
---
Next Business Day Delivery
Must place your order by 4:00 PM, EST
---
About Shipping Options
Available For Pickup In Store
Pick up available within 4 hours after your purchase.
About Pick Up Times
Mother of Pearl Solar Globe-Features: Mother of pearl globe spins powered by light. Due to limited space and the use of genuine gemstones that are hand cut and assembled it is not possible to show all countries and to show their names.

Mother of Pearl Solar Globe-Color: Gold, white

Mother of Pearl Solar Globe-Material: Mother of pearl