{ width: 312, height: 312, defaultImage: '000751731', layers: '000751731_10204' }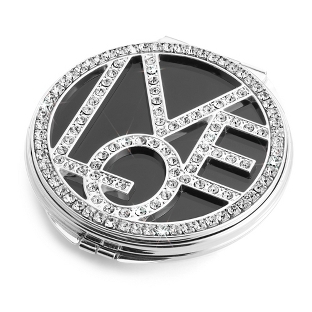 { altImage: '000751731_10204' }

{ width: 48, height: 48, defaultImage: '000751731', layers: '000751731_10204' }

{ altImage: '000751731_1_lg' }

{ width: 48, height: 48, defaultImage: '', layers: '000751731_1_lg' }

{ altImage: '000751731_2_lg' }

{ width: 48, height: 48, defaultImage: '', layers: '000751731_2_lg' }
Delivery Dates:
---
Standard Delivery
---
Express Delivery
---
Express Plus Delivery
---
Next Business Day Delivery
Must place your order by 4:00 PM, EST
---
About Shipping Options
Back of Compact-Color: Polished silver, Black finish

Back of Compact-Size: 2.98"x 2.80"x .43"

Back of Compact-Material: Zinc Alloy

Back of Compact-Features: Bling love. 2x magnifying mirror. Engravable on back to make a great personalized gift.