{ width: 312, height: 312, defaultImage: '000733979', layers: '000733979_10109' }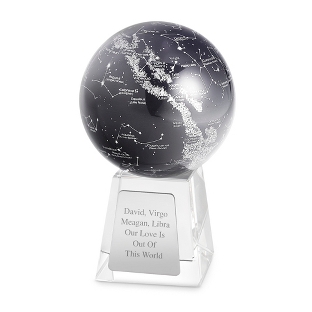 { altImage: '000733979_10109' }

{ width: 48, height: 48, defaultImage: '000733979', layers: '000733979_10109' }

{ altImage: '000733979_1_lg' }

{ width: 48, height: 48, defaultImage: '', layers: '000733979_1_lg' }
Guaranteed Christmas Delivery still available.
See below dates for details.
Globe-Color: Globe: clear plastic with black and silver finish Base: clear

Globe-Material: K-9 krystal glass, solar power modual, plastic shell

Globe-Size: 4.5"x 4.5"x 4.5"

Globe-Features: Detailed constellation map on globe. Engravable crystal base. Solar powered rotating globe- no batteried required.