{ width: 312, height: 312, defaultImage: '000744191', layers: '000744191_10203' }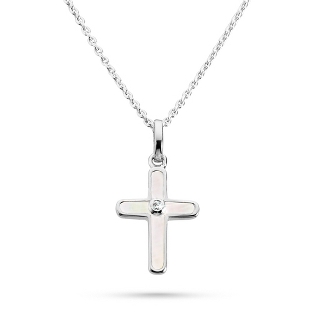 { altImage: '000744191_10203' }

{ width: 48, height: 48, defaultImage: '000744191', layers: '000744191_10203' }

{ altImage: '000744191_1_lg' }

{ width: 48, height: 48, defaultImage: '', layers: '000744191_1_lg' }

{ altImage: '000744191_2_lg' }

{ width: 48, height: 48, defaultImage: '', layers: '000744191_2_lg' }
Delivery Dates:
---
Standard Delivery
---
Express Delivery
---
Express Plus Delivery
---
Next Business Day Delivery
Must place your order by 4:00 PM, EST
---
About Shipping Options
Necklace-Components: Necklace with Cross Charm, Keepsake Box

Necklace-Size: Necklace: 12" long + 2" extender; Charm: 1/4" x 1/8"

Necklace-Care Instructions: Clean sterling silver with high-quality cloth. Do not use silver dips. Use warm soapy water and rinse with clean water.

Necklace-Material: Necklace & Charm: Sterling Silver, Mother of Pearl

Necklace-Features: Sterling silver cable chain necklace with a Mother of Pearl cross charm created by British Designer Kit Heath. Comes in an engravable heart-shaped keepsake box.

Necklace-Brand: Kit Heath Collection

Necklace-Clasp/Closure: Lobster claw closure on necklace

Necklace-Color: Silver