{ width: 312, height: 312, defaultImage: '000627166', layers: '000627166_10213' }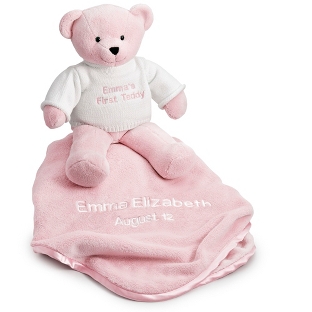 { altImage: '000627166_10213' }

{ width: 48, height: 48, defaultImage: '000627166', layers: '000627166_10213' }

{ altImage: '000627166_1_lg' }

{ width: 48, height: 48, defaultImage: '', layers: '000627166_1_lg' }

{ altImage: '000627166_2_lg' }

{ width: 48, height: 48, defaultImage: '', layers: '000627166_2_lg' }
Delivery Dates:
---
Standard Delivery
---
Express Delivery
---
Express Plus Delivery
---
Next Business Day Delivery
Must place your order by 4:00 PM, EST
---
About Shipping Options
Blanket-Color: Pink

Teddy Bear-Features: Pink children's teddy bear wearing a sweater that can be embroidered. Comes with matching blanket.

Teddy Bear-Size: 16.5" tall

Teddy Bear-Components: Pink blanket

Teddy Bear-Color: Pink and White

Blanket-Size: 44" x 36"

Teddy Bear-Material: Bear: 100% Polyester, Fill: 100% Polyester Fiber fill; Sweater: 100% Cotton; Blanket: 100% Polyester