{ width: 312, height: 312, defaultImage: '000713290', layers: '000713290_10207' }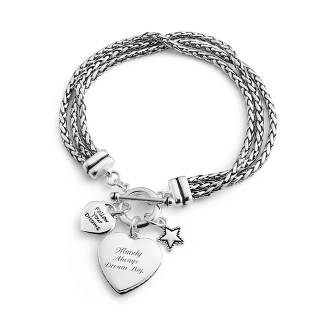 { altImage: '000713290_10207' }

{ width: 48, height: 48, defaultImage: '000713290', layers: '000713290_10207' }

{ altImage: '000713290_1_lg' }

{ width: 48, height: 48, defaultImage: '', layers: '000713290_1_lg' }

{ altImage: '000713290_2_lg' }

{ width: 48, height: 48, defaultImage: '', layers: '000713290_2_lg' }

{ altImage: '000713290_3_lg' }

{ width: 48, height: 48, defaultImage: '', layers: '000713290_3_lg' }

{ altImage: '000713290_4_lg' }

{ width: 48, height: 48, defaultImage: '', layers: '000713290_4_lg' }
Front of Heart-Material: Silver plated, brass

Front of Heart-Size: 7.75" Length

Front of Heart-Care Instructions: Store your pieces in the original box. Keep your product dry and avoid wet surfaces or moisture, as this will accelerate tarnishing, use a polishing cloth for tarnish.

Front of Heart-Clasp/Closure: Toggle closure

Front of Heart-Features: Triple chain rope bracelet with a star and heart charms, plus a petite heart charm with the words "Follow your dreams."