{ width: 312, height: 312, defaultImage: '000334715', layers: '000334715' }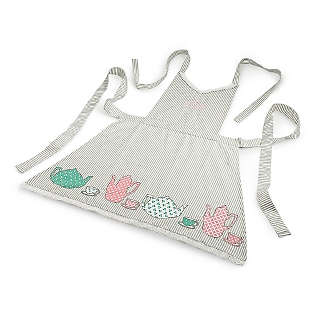 { altImage: '000334715' }

{ width: 48, height: 48, defaultImage: '000334715', layers: '000334715' }

{ altImage: '000334715_1_lg' }

{ width: 48, height: 48, defaultImage: '', layers: '000334715_1_lg' }
Delivery Dates:
---
Standard Delivery
---
Express Delivery
---
Express Plus Delivery
---
Next Business Day Delivery
Must place your order by 4:00 PM, EST
---
About Shipping Options
Apron-Size: 11" x 10" x .5"

Apron-Washing Instructions: Machine wash cold. Tumble dry low. Do not bleach.

Apron-Material: 100% Cotton

Apron-Features: Grey and white stripe apron with lace trim detail and English tea pots along the bottom.