{ width: 312, height: 312, defaultImage: '000750172', layers: '000750172' }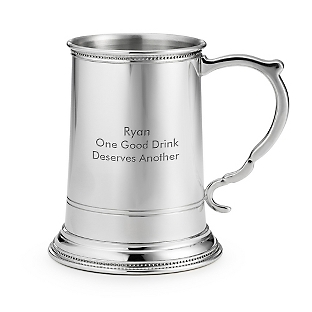 { altImage: '000750172' }

{ width: 48, height: 48, defaultImage: '000750172', layers: '000750172' }

{ altImage: '000750172_1_lg' }

{ width: 48, height: 48, defaultImage: '', layers: '000750172_1_lg' }
Delivery Dates:
---
Standard Delivery
---
Express Delivery
---
Express Plus Delivery
---
Next Business Day Delivery
Must place your order by 4:00 PM, EST
---
About Shipping Options
Front of Mug-Care Instructions: Wash in warm water using mild soap with a soft towel. Not for use in dishwasher. Hand wash only.

Front of Mug-Features: Fine handcrafted pewter mug with a beveled lip at bottom and a decorative handle

Front of Mug-Color: Pewter

Front of Mug-Size: 5" x 4.75"

Front of Mug-Material: Pewter