{ width: 312, height: 312, defaultImage: '000750208', layers: '000750208_10203' }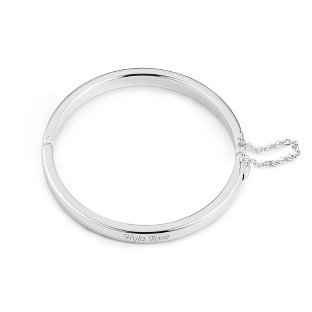 { altImage: '000750208_10203' }

{ width: 48, height: 48, defaultImage: '000750208', layers: '000750208_10203' }

{ altImage: '000750208_1_lg' }

{ width: 48, height: 48, defaultImage: '', layers: '000750208_1_lg' }

{ altImage: '000750208_2_lg' }

{ width: 48, height: 48, defaultImage: '', layers: '000750208_2_lg' }
Guaranteed Christmas Delivery still available.
See below dates for details.
Front-Clasp/Closure: Tension clasp

Front-Features: Baby bangle is engravable to make a great personalized gift.

Front-Size: Inside diameter: 42mm

Front-Material: Stainless steel

Front-Care Instructions: All children pieces are lead free. Remove all jewelry before napping, riding in a car seat, bathtime, unattended playtime or bedtime. Use a polishing cloth to clean.

Front-Color: Polished silver