{ width: 312, height: 312, defaultImage: '000791034', layers: '000791034_10213' }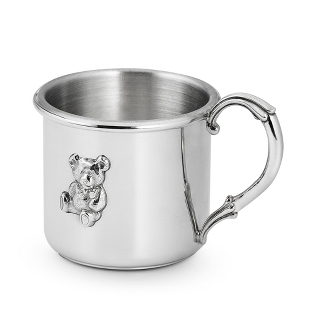 { altImage: '000791034_10213' }

{ width: 48, height: 48, defaultImage: '000791034', layers: '000791034_10213' }

{ altImage: '000791034_1_lg' }

{ width: 48, height: 48, defaultImage: '', layers: '000791034_1_lg' }
Guaranteed Christmas Delivery still available.
See below dates for details.
Back of Cup-Capacity: 5 oz.

Back of Cup-Size: 2.5"x 2.25"

Back of Cup-Features: Teddy bear pictured on the front of the cup. Handcrafted from fine non tarnishing, no lead pewter. Heirloom quality. Decorative handle.

Back of Cup-Material: Pewter

Back of Cup-Color: Silver

Back of Cup-Care Instructions: Hand wash in soapy water. Dry with towel. Store standing upright.