{ width: 312, height: 312, defaultImage: '000747350', layers: '000747350_10213' }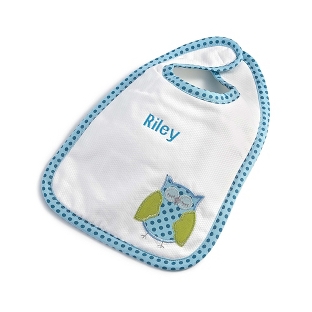 { altImage: '000747350_10213' }

{ width: 48, height: 48, defaultImage: '000747350', layers: '000747350_10213' }

{ altImage: '000747350_1_lg' }

{ width: 48, height: 48, defaultImage: '', layers: '000747350_1_lg' }
Guaranteed Christmas Delivery still available.
See below dates for details.
Bib-Material: 100% Cotton Terry and Fabric

Bib-Care Instructions: Machine wash cold with similar colors. No bleach. Tumble dry low.

Bib-Features: Feeding bib accented with blue polka dot trim and a blue and green patterned owl design

Bib-Color: Blue, Green, White

Bib-Size: 10.25" x 9.5"