{ width: 312, height: 312, defaultImage: '000785626', layers: '000785626' }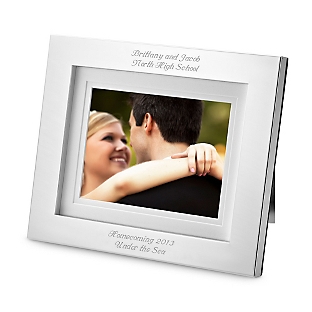 { altImage: '000785626' }

{ width: 48, height: 48, defaultImage: '000785626', layers: '000785626' }

{ altImage: '000785626_1_lg' }

{ width: 48, height: 48, defaultImage: '', layers: '000785626_1_lg' }
Delivery Dates:
---
Standard Delivery
---
Express Delivery
---
Express Plus Delivery
---
Next Business Day Delivery
Must place your order by 4:00 PM, EST
---
About Shipping Options
Top of Frame-Material: Metal, Electrical PCBA

Top of Frame-Color: Frame: Silver; Double Matte: White

Top of Frame-Features: Digital frame features 800x600 screen resolution and functions like photo sliding, music, video, clock and calendar. Holds up to 256 MB. ***For additional instructions feel free to call our Customer Service Center at 866-902-4438.

Top of Frame-Photo Capacity: Holds up to 200 photos

Top of Frame-Size: 10.39" x 8.78" x .85"