{ width: 312, height: 312, defaultImage: '000785286', layers: '000785286_10219' }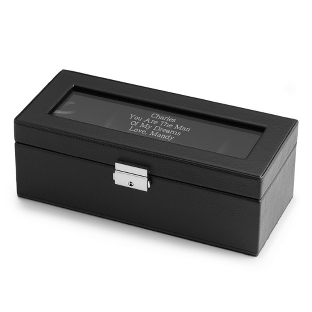 { altImage: '000785286_10219' }

{ width: 48, height: 48, defaultImage: '000785286', layers: '000785286_10219' }

{ altImage: '000785286_1_lg' }

{ width: 48, height: 48, defaultImage: '', layers: '000785286_1_lg' }
Guaranteed Christmas Delivery still available.
See below dates for details.
Top of Box-Color: Black, silver, clear

Top of Box-Material: PVC, MDF, glass

Top of Box-Size: 9.84" x 4.53" x 3.5"

Top of Box-Features: 4 watch compartments with individual watch pads. Soft, suede texture interior. Clear glass lid and working lock.