{ width: 312, height: 312, defaultImage: '000791306', layers: '000791306_10218' }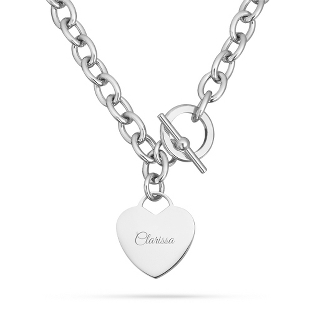 { altImage: '000791306_10218' }

{ width: 48, height: 48, defaultImage: '000791306', layers: '000791306_10218' }

{ altImage: '000791306_1_lg' }

{ width: 48, height: 48, defaultImage: '', layers: '000791306_1_lg' }

{ altImage: '000791306_2_lg' }

{ width: 48, height: 48, defaultImage: '', layers: '000791306_2_lg' }
Delivery Dates:
---
Standard Delivery
---
Express Delivery
---
Express Plus Delivery
---
Next Business Day Delivery
Must place your order by 4:00 PM, EST
---
About Shipping Options
Front of Charm-Care Instructions: Keep your jewelry dry and clean, avoiding harsh chemicals. Hand wash only in warm water and mild detergent. Dry with a soft clean cloth. Store jewelry in original packaging to avoid scratching.

Front of Charm-Size: 22" Toggle chain

Front of Charm-Features: Platinum plated classic heavy-link cable chain with a toggle closure in the front. Heart plaque charm hangs near clasp.

Front of Charm-Material: Platinum, stainless steel

Front of Charm-Color: Polished silver

Front of Charm-Clasp/Closure: Toggle