{ width: 312, height: 312, defaultImage: '000769684', layers: '000769684_10201' }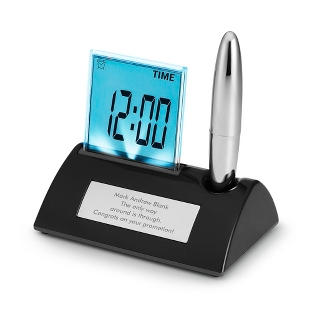 { altImage: '000769684_10201' }

{ width: 48, height: 48, defaultImage: '000769684', layers: '000769684_10201' }

{ altImage: '000769684_1_lg' }

{ width: 48, height: 48, defaultImage: '', layers: '000769684_1_lg' }

{ altImage: '000769684_2_lg' }

{ width: 48, height: 48, defaultImage: '', layers: '000769684_2_lg' }

{ altImage: '000769684_3_lg' }

{ width: 48, height: 48, defaultImage: '', layers: '000769684_3_lg' }

{ altImage: '000769684_4_lg' }

{ width: 48, height: 48, defaultImage: '', layers: '000769684_4_lg' }

{ altImage: '000769684_5_lg' }

{ width: 48, height: 48, defaultImage: '', layers: '000769684_5_lg' }
Delivery Dates:
---
Standard Delivery
---
Express Delivery
---
Express Plus Delivery
---
Next Business Day Delivery
Must place your order by 4:00 PM, EST
---
About Shipping Options
Available For Pickup In Store
Pick up after 4 store hours.
Details
Name Plate-Features: LCD clock screen features lighted touch control. Can display time, temperature, date and timer. Ballpoint pen balances by magnets and gravity. Use Cross refill 8513.

Name Plate-Battery: 3- AAA Battery Included

Name Plate-Material: Plastic, Zinc Alloy

Name Plate-Color: Black, Silver

Name Plate-Size: Pen Stand: 4.72"x 3.94" 3"; Pen: 4.7" long