{ width: 312, height: 312, defaultImage: '000733801', layers: '000733801_10219' }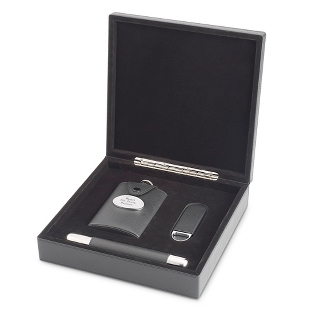 { altImage: '000733801_10219' }

{ width: 48, height: 48, defaultImage: '000733801', layers: '000733801_10219' }

{ altImage: '000733801_1_lg' }

{ width: 48, height: 48, defaultImage: '', layers: '000733801_1_lg' }

{ altImage: '000733801_2_lg' }

{ width: 48, height: 48, defaultImage: '', layers: '000733801_2_lg' }
Guaranteed Christmas Delivery still available.
See below dates for details.
Box-Features: Cigar set presentation box and holds a flask, cigar cube (holds a 50 gauge cigar), and a cigar cutter

Flask-Features: Polished silver flask wrapped in black pebble grain and an oval engraving plate

Box-Size: 10.2" x 10" x 2.6"

Box-Material: MDF, stainless steel, faux leather

Box-Components: Flask, Cigar Tube, Cigar Cutter

Box-Color: Black, silver