{ width: 312, height: 312, defaultImage: '000334426', layers: '000334426_10115' }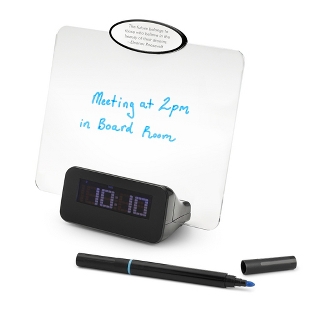 { altImage: '000334426_10115' }

{ width: 48, height: 48, defaultImage: '000334426', layers: '000334426_10115' }

{ altImage: '000334426_1_lg' }

{ width: 48, height: 48, defaultImage: '', layers: '000334426_1_lg' }

{ altImage: '000334426_2_lg' }

{ width: 48, height: 48, defaultImage: '', layers: '000334426_2_lg' }

{ altImage: '000334426_3_lg' }

{ width: 48, height: 48, defaultImage: '', layers: '000334426_3_lg' }

{ altImage: '000334426_4_lg' }

{ width: 48, height: 48, defaultImage: '', layers: '000334426_4_lg' }
Delivery Dates:
---
Standard Delivery
---
Express Delivery
---
Express Plus Delivery
---
Next Business Day Delivery
Must place your order by 4:00 PM, EST
---
About Shipping Options
Front of Board-Battery: (3) AAA included.

Front of Board-Material: Plastic, acrylic

Front of Board-Color: Black

Front of Board-Features: Lighted message board allows you to write messages on the acrylic board. Also features time, temperature, alarm and a timer. Includes a pen and cloth.