{ width: 312, height: 312, defaultImage: '000737519', layers: '000737519_10218' }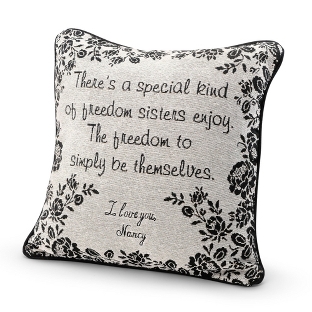 { altImage: '000737519_10218' }

{ width: 48, height: 48, defaultImage: '000737519', layers: '000737519_10218' }

{ altImage: '000737519_1_lg' }

{ width: 48, height: 48, defaultImage: '', layers: '000737519_1_lg' }
Delivery Dates:
---
Standard Delivery
---
Express Delivery
---
Express Plus Delivery
---
Next Business Day Delivery
Must place your order by 4:00 PM, EST
---
About Shipping Options
Pillow-Washing Instructions: Spot Care Only

Pillow-Features: Poem reads "There's a special kind of freedom sisters enjoy. The freedom to simply be themselves." Pillow has flower design around border. Fringe trim.

Pillow-Size: 17"x 17"

Pillow-Material: 42% Polyester, 58% Cotton

Pillow-Color: Black, White