{ width: 312, height: 312, defaultImage: '000728049', layers: '000728049_10218' }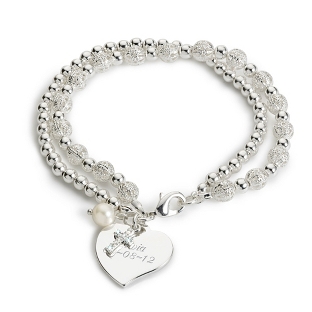 { altImage: '000728049_10218' }

{ width: 48, height: 48, defaultImage: '000728049', layers: '000728049_10218' }

{ altImage: '000728049_1_lg' }

{ width: 48, height: 48, defaultImage: '', layers: '000728049_1_lg' }

{ altImage: '000728049_2_lg' }

{ width: 48, height: 48, defaultImage: '', layers: '000728049_2_lg' }

{ altImage: '000728049_3_lg' }

{ width: 48, height: 48, defaultImage: '', layers: '000728049_3_lg' }
Back of Charm-Color: Silver

Front of Charm-Care Instructions: Silver will naturally tarnish when exposed to the air, store in the original velvet pouch. Use a polishing cloth to bring back some of the original shine. Remove jewelry before showering or swimming.

Front of Charm-Size: 7.5" chain

Front of Charm-Features: Filigree bead strand bracelet with cross pendant, freshwater pearl accent, and heart for engraving. Accented wtih cz crystals.

Back of Charm-Material: Silver polished brass and a freshwater pearl

Front of Charm-Material: Polished silver and a freshwater pearl

Front of Charm-Color: Silver

Front of Charm-Clasp/Closure: Lobster claw