{ width: 312, height: 312, defaultImage: '000659493', layers: '000659493_10218' }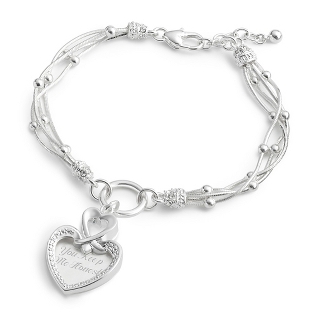 { altImage: '000659493_10218' }

{ width: 48, height: 48, defaultImage: '000659493', layers: '000659493_10218' }

{ altImage: '000659493_1_lg' }

{ width: 48, height: 48, defaultImage: '', layers: '000659493_1_lg' }
Delivery Dates:
---
Standard Delivery
---
Express Delivery
---
Express Plus Delivery
---
Next Business Day Delivery
Must place your order by 4:00 PM, EST
---
About Shipping Options
Front-Clasp/Closure: Heart-shaped loster claw

Front-Features: Silver plated bracelet features silver beaded bordered heart charm on a 4 strand chain.

Front-Size: 7.5" chain with a 1" extender

Front-Material: Silver plated brass

Front-Care Instructions: Silver will naturally tarnish when exposed to the air, store in the original velvet pouch. Use a polishing cloth to bring back some of the original shine. Remove jewelry before showering or swimming.

Front-Color: Silver