{ width: 312, height: 312, defaultImage: '000660631', layers: '000660631_10212' }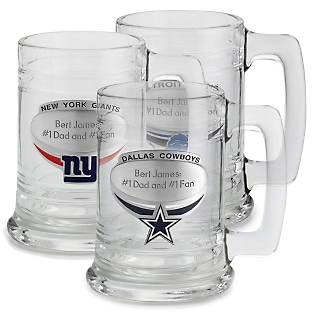 { altImage: '000660631_10212' }

{ width: 48, height: 48, defaultImage: '000660631', layers: '000660631_10212' }

{ altImage: '000660631_1_lg' }

{ width: 48, height: 48, defaultImage: '', layers: '000660631_1_lg' }
Delivery Dates:
---
Standard Delivery
---
Express Delivery
---
Express Plus Delivery
---
Next Business Day Delivery
Must place your order by 4:00 PM, EST
---
About Shipping Options
Available For Pickup In Store
Pick up after 4 store hours.
Details
NFL Beer Mugs-Capacity: 15 oz.

NFL Beer Mugs-Care Instructions: Hand wash. Do NOT use in dishwasher or microwave oven. Dry immediately with soft cloth or towel after washing. Do NOT put in freezer.

NFL Beer Mugs-Material: Glass, pewter

NFL Beer Mugs-Size: 3.5"x 3.5"x 5"

NFL Beer Mugs-Features: Colonial style glass tankard with a medallion With your choice of NFL logo.