{ width: 312, height: 312, defaultImage: '000733377', layers: '000733377_10206' }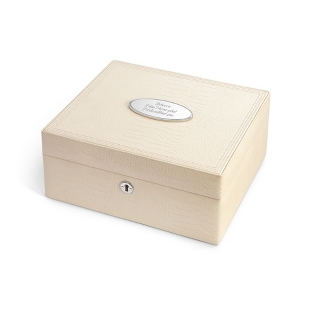 { altImage: '000733377_10206' }

{ width: 48, height: 48, defaultImage: '000733377', layers: '000733377_10206' }

{ altImage: '000733377_1_lg' }

{ width: 48, height: 48, defaultImage: '', layers: '000733377_1_lg' }
Delivery Dates:
---
Standard Delivery
---
Express Delivery
---
Express Plus Delivery
---
Next Business Day Delivery
Must place your order by 4:00 PM, EST
---
About Shipping Options
Jewelry Box-Color: Croc texture, Natural, Beige

Jewelry Box-Size: 8.46"x 9.57"x 4.53"

Jewelry Box-Material: Faux leather, suede, metal

Jewelry Box-Features: Has lock and comes with key. Mutiple jewelry compartments. Engravable to make a great personalized gift.