{ width: 312, height: 312, defaultImage: '000702120', layers: '000702120_10205' }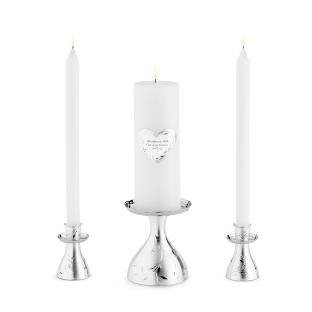 { altImage: '000702120_10205' }

{ width: 48, height: 48, defaultImage: '000702120', layers: '000702120_10205' }

{ altImage: '000702120_1_lg' }

{ width: 48, height: 48, defaultImage: '', layers: '000702120_1_lg' }
Delivery Dates:
---
Standard Delivery
---
Express Delivery
---
Express Plus Delivery
---
Next Business Day Delivery
Must place your order by 4:00 PM, EST
---
About Shipping Options
Heart Plate-Features: Unity candle holder set accented with a leaves and vines design and comes in a black velvet lined box for storage. Candles NOT included.

Heart Plate-Material: Zinc alloy

Heart Plate-Size: Unity 4.30" x 4.30" x 4.80" Taper 2" x 3.5"

Heart Plate-Components: Unity candle holder set (candles not included)

Heart Plate-Color: Silver