{ width: 312, height: 312, defaultImage: '000747583', layers: '000747583_10211' }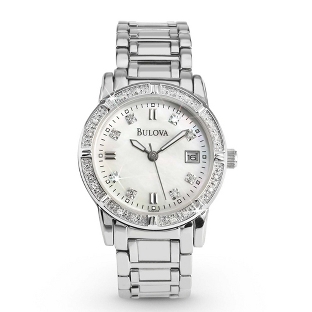 { altImage: '000747583_10211' }

{ width: 48, height: 48, defaultImage: '000747583', layers: '000747583_10211' }

{ altImage: '000747583_1_lg' }

{ width: 48, height: 48, defaultImage: '', layers: '000747583_1_lg' }

{ altImage: '000747583_2_lg' }

{ width: 48, height: 48, defaultImage: '', layers: '000747583_2_lg' }
Delivery Dates:
---
Standard Delivery
---
Express Delivery
---
Express Plus Delivery
---
Next Business Day Delivery
Must place your order by 4:00 PM, EST
---
About Shipping Options
Back of Watch-Size: Case diameter: 26mm; Case Thickness: 7mm; Band width: 14mm

Back of Watch-Features: Calender window at three o'clock position. Water resistant to 30 meters/ 100 feet. Hand set diamonds.

Back of Watch-Color: Silver

Back of Watch-Material: Stainless steel

Back of Watch-Brand: Bulova®