{ width: 312, height: 312, defaultImage: '000763790', layers: '000763790' }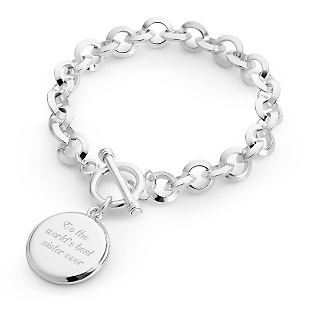 { altImage: '000763790' }

{ width: 48, height: 48, defaultImage: '000763790', layers: '000763790' }

{ altImage: '000763790_1_lg' }

{ width: 48, height: 48, defaultImage: '', layers: '000763790_1_lg' }

{ altImage: '000763790_2_lg' }

{ width: 48, height: 48, defaultImage: '', layers: '000763790_2_lg' }

{ altImage: '000763790_3_lg' }

{ width: 48, height: 48, defaultImage: '', layers: '000763790_3_lg' }

{ altImage: '000763790_4_lg' }

{ width: 48, height: 48, defaultImage: '', layers: '000763790_4_lg' }
Front of Charm-Care Instructions: Store your jewelry in the orginial package to avoid excessive scratching. Keep your product dry and avoid wet surfaces or moisture, as this will accelerate tarnishing. Use a polishing cloth for tarnish.

Front of Charm-Size: 7.75"

Front of Charm-Features: Circle links with beveled edge. Round beveled-edge plaque complements chain style.

Front of Charm-Material: Brass, silver plated

Front of Charm-Color: Silver

Front of Charm-Clasp/Closure: Toggle