{ width: 312, height: 312, defaultImage: '000334508', layers: '000334508' }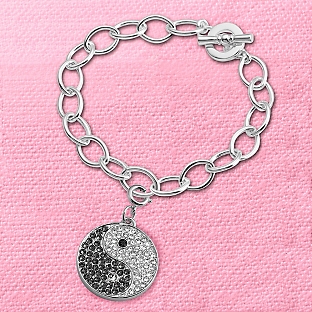 { altImage: '000334508' }

{ width: 48, height: 48, defaultImage: '000334508', layers: '000334508' }

{ altImage: '000334508_1_lg' }

{ width: 48, height: 48, defaultImage: '', layers: '000334508_1_lg' }

{ altImage: '000334508_2_lg' }

{ width: 48, height: 48, defaultImage: '', layers: '000334508_2_lg' }
Delivery Dates:
---
Standard Delivery
---
Express Delivery
---
Express Plus Delivery
---
Next Business Day Delivery
Must place your order by 4:00 PM, EST
---
About Shipping Options
Back of Charm-Color: Silver

Back of Charm-Features: Yin yang pavé design.

Back of Charm-Size: Charm: 1"x .12"x 1"; Chain: 8"

Back of Charm-Care Instructions: Store your jewelry in the orginial package to avoid excessive scratching. Keep your product dry and avoid wet surfaces or moisture, as this will accelerate tarnishing. Use a polishing cloth for tarnish.

Back of Charm-Material: Zinc alloy

Back of Charm-Clasp/Closure: Charm: spring ring; Chain: toggle