{ width: 312, height: 312, defaultImage: '000739601', layers: '000739601' }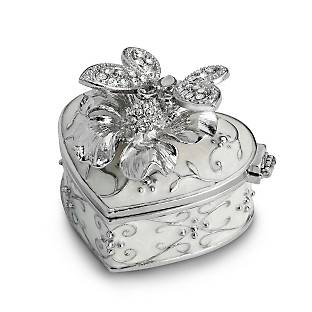 { altImage: '000739601' }

{ width: 48, height: 48, defaultImage: '000739601', layers: '000739601' }

{ altImage: '000739601_1_lg' }

{ width: 48, height: 48, defaultImage: '', layers: '000739601_1_lg' }

{ altImage: '000739601_2_lg' }

{ width: 48, height: 48, defaultImage: '', layers: '000739601_2_lg' }
Guaranteed Christmas Delivery still available.
See below dates for details.
Top of Box-Color: White, silver

Top of Box-Material: Pewter alloy, imitation rhodium, crystal

Top of Box-Size: 2.1" x 1.8" x 2.0"

Top of Box-Features: Keepsake box featuring a butterfly with Moonstone body sitting on top of a heart with clear stones.