{ width: 312, height: 312, defaultImage: '000628097', layers: '000628097' }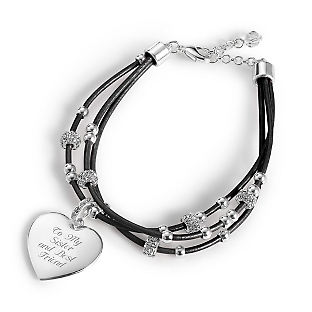 { altImage: '000628097' }

{ width: 48, height: 48, defaultImage: '000628097', layers: '000628097' }

{ altImage: '000628097_1_lg' }

{ width: 48, height: 48, defaultImage: '', layers: '000628097_1_lg' }

{ altImage: '000628097_2_lg' }

{ width: 48, height: 48, defaultImage: '', layers: '000628097_2_lg' }
Guaranteed Christmas Delivery still available.
See below dates for details.
Front of Charm-Components: Soho black leather bracelet with clear crystals and an engravable plaque.

Front of Charm-Care Instructions: Leather jewelry is handled much different then most other jewelry. Moisture and heat should be avoided to keep leather intact. Store jewelry safely in a jewelry box.

Front of Charm-Size: 7.5" (chain length)

Front of Charm-Material: Plastic, Leather, Brass

Front of Charm-Color: Silver and Black

Front of Charm-Clasp/Closure: Lobster