{ width: 312, height: 312, defaultImage: '000619336', layers: '000619336' }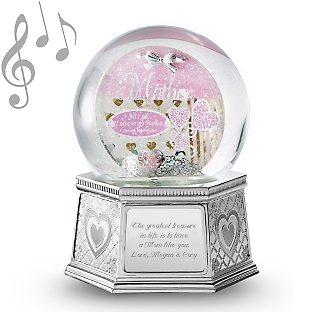 { altImage: '000619336' }

{ width: 48, height: 48, defaultImage: '000619336', layers: '000619336' }

{ altImage: '000619336_1_lg' }

{ width: 48, height: 48, defaultImage: '', layers: '000619336_1_lg' }

{ altImage: '000619336_2_lg' }

{ width: 48, height: 48, defaultImage: '', layers: '000619336_2_lg' }

{ altImage: '000619336_3_lg' }

{ width: 48, height: 48, defaultImage: '', layers: '000619336_3_lg' }
Delivery Dates:
---
Standard Delivery
---
Express Delivery
---
Express Plus Delivery
---
Next Business Day Delivery
Must place your order by 4:00 PM, EST
---
About Shipping Options
Available For Pickup In Store
Pick up available within 4 hours after your purchase.
About Pick Up Times
Mother Water Globe-Color: Silver, pink, and white

Mother Water Globe-Features: Water globe with rotating scene of hearts and a quote from George Washington: "All I am, I owe to my mother."

Mother Water Globe-Additional Information: Not intended for children 12 years of age and under.

Mother Water Globe-Size: 5.1" X 6.8" 5.1"

Mother Water Globe-Melody/Music: Plays Fur Elise

Mother Water Globe-Material: Glass and polyurethane