{ width: 312, height: 312, defaultImage: '000771009', layers: '000771009' }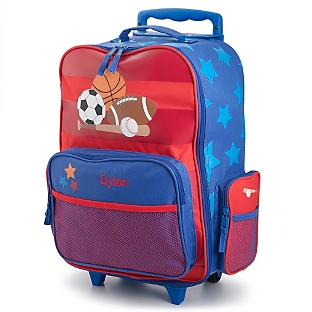 { altImage: '000771009' }

{ width: 48, height: 48, defaultImage: '000771009', layers: '000771009' }

{ altImage: '000771009_1_lg' }

{ width: 48, height: 48, defaultImage: '', layers: '000771009_1_lg' }
Delivery Dates:
---
Standard Delivery
---
Express Delivery
---
Express Plus Delivery
---
Next Business Day Delivery
Must place your order by 4:00 PM, EST
---
About Shipping Options
Front Blue Pocket-Material: Cotton

Front Blue Pocket-Features: Retractable handle and carrying handle. Zippered pocket with mesh pouch on each side. Large zippered front pocket with mesh pouch, and large zippered interior mesh pocket. Rugged, durable wheels.

Front Blue Pocket-Clasp/Closure: Zipper

Front Blue Pocket-Size: 18"x 14.5"x 6.5"

Front Blue Pocket-Care Instructions: Spot clean