{ width: 312, height: 312, defaultImage: '000749811', layers: '000749811' }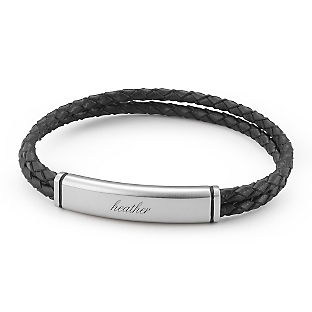 { altImage: '000749811' }

{ width: 48, height: 48, defaultImage: '000749811', layers: '000749811' }

{ altImage: '000749811_1_lg' }

{ width: 48, height: 48, defaultImage: '', layers: '000749811_1_lg' }

{ altImage: '000749811_2_lg' }

{ width: 48, height: 48, defaultImage: '', layers: '000749811_2_lg' }

{ altImage: '000749811_3_lg' }

{ width: 48, height: 48, defaultImage: '', layers: '000749811_3_lg' }
Delivery Dates:
---
Standard Delivery
---
Express Delivery
---
Express Plus Delivery
---
Next Business Day Delivery
Must place your order by 4:00 PM, EST
---
About Shipping Options
Front of ID-Clasp/Closure: Magnetic

Front of ID-Size: 7.5"x .31"x .19"

Front of ID-Care Instructions: Leather jewelry is handled much different then most other jewelry. Moisture and heat should be avoided to keep leather intact. Store jewelry safely in a jewelry box.

Front of ID-Features: Braided leather cords. Stainless Steel ID plaque.

Front of ID-Material: Stainless Steel, Leather

Front of ID-Color: Silver, black