{ width: 312, height: 312, defaultImage: '000748799', layers: '000748799' }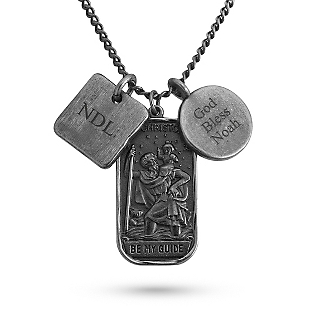 { altImage: '000748799' }

{ width: 48, height: 48, defaultImage: '000748799', layers: '000748799' }

{ altImage: '000748799_1_lg' }

{ width: 48, height: 48, defaultImage: '', layers: '000748799_1_lg' }

{ altImage: '000748799_2_lg' }

{ width: 48, height: 48, defaultImage: '', layers: '000748799_2_lg' }

{ altImage: '000748799_3_lg' }

{ width: 48, height: 48, defaultImage: '', layers: '000748799_3_lg' }

{ altImage: '000748799_4_lg' }

{ width: 48, height: 48, defaultImage: '', layers: '000748799_4_lg' }
Delivery Dates:
---
Standard Delivery
---
Express Delivery
---
Express Plus Delivery
---
Next Business Day Delivery
Must place your order by 4:00 PM, EST
---
About Shipping Options
Available For Pickup In Store
Pick up available within 4 hours after your purchase.
About Pick Up Times
Front of Square-Features: St. Christopher. Three engraving tags to make a great personalized gift.

Back of Large Tag-Size: 1.75"x .25"x 1.0; Chain: 22"

Front of Square-Color: Silvertone Antique finish

Front of Square-Size: 1.75"x 1.00"x .25"

Front of Square-Material: Brass & Alloy