{ width: 312, height: 312, defaultImage: '000751207', layers: '000751207' }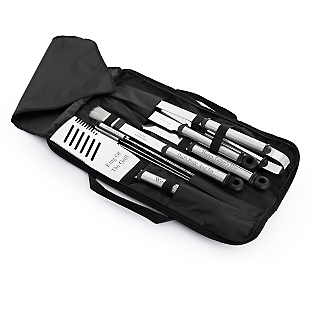 { altImage: '000751207' }

{ width: 48, height: 48, defaultImage: '000751207', layers: '000751207' }

{ altImage: '000751207_1_lg' }

{ width: 48, height: 48, defaultImage: '', layers: '000751207_1_lg' }

{ altImage: '000751207_2_lg' }

{ width: 48, height: 48, defaultImage: '', layers: '000751207_2_lg' }
Guaranteed Christmas Delivery still available.
See below dates for details.
Case-Features: Black carrier tote with handle which holds a stainless steel spatula/flipper, basting brush, fork, tongs, knife and 4 skewers. Design and assembled in the USA.

Case-Size: 22.75" x 7" x 1"

Case-Washing Instructions: Dishwasher safe tools. Spot clean case.

Case-Color: Black

Case-Material: 600D Polycanvas, Stainless Steel